Skilled Pressure Washing Company In Damscus, MD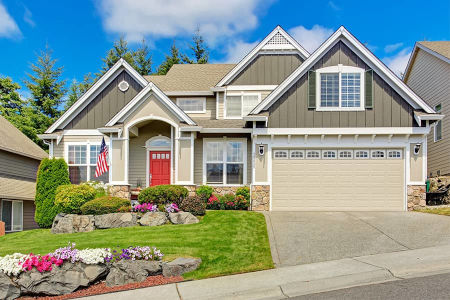 At Eco Bright Exteriors, we know that your home in Damascus is important to you, and when it comes to keeping it clean, you deserve the best power washing services available on the market. If it's been a while since your exteriors have had that brand-new look and feel, then you should give us a call. We will totally revitalize the appearance of your residence and get it cleaned thoroughly with our professional power and soft washing options. Our services include but aren't limited to:
House washing
Driveway cleaning
Sidewalk cleaning
Our team is made up of only the best power washing professionals when cleaning the exterior of your home. We strive to be the number one rated exterior cleaning company in the area, and we can't wait to assist you with restoring your residence back to its former beauty. Let us provide you with clean and sanitized exteriors in Damascus with our power washing expertise!
Power Washing For Restored Surfaces In Damascus
Grime buildup and discoloration on your Damascus home's hardscapes are inevitable, and while it can be a pain to see these eyesores marring your property, there is a quick and easy solution available to homeowners. Professional power washing with Eco Bright Exteriors can eliminate the most visible afflictions on your home's exterior surfaces and restore their like-new appearance. Power washing can also help offset the gradual degeneration of your hardscapes over time. Don't wait to make this smart investment for your Damascus home; reach out to us today and see your exteriors transformed by our expertly skilled team of power washing professionals.
Gentle But Effective Roof Cleaning For Damascus Rooftops
The method that industry professionals trust to clean rooftops safely and effectively is called soft washing. Soft washing is a process that uses a low-pressure spray of water to loosen unwanted materials from your roof, like mildew, moss, and other debris. This is the most effective process to clean the parts of your home that are more delicate, and it is often used in house washing as well. The low-pressure water means that there is no risk of strong pressurized water removing the shingles or tiles that make up your roof. But that doesn't mean you are sacrificing the power of the clean! Soft washing is just as effective at removing harmful and ugly contaminants from your roof as power washing is, but you won't ever have to worry about costly roof repairs. An inexperienced company might not use soft washing on your roof, but Eco Bright Exteriors absolutely will. Our goal is to give your roof an enhanced clean without the power of pressurized water.
Reviews & Testimonials on Eco Bright Exteriors in Damascus, MD
There are currently no reviews or testimonials for Damascus, MD. Check back soon!
Latest Articles & Tips
Importance of Driveway Cleaning

To keep your Frederick area home looking its best, take care to keep its driveway clean and beautiful. Unfortunately, it can seem like an uphill battle to maintain a clean driveway, as it will remain […]

Reasons to Get Roof Cleaning

Of all the components that make up your Frederick home, the roof is one of the most important thanks to the protection, beauty, and support it provides. Unfortunately, your roof is bound to suffer so […]