Keep The Exterior of Your Frederick Home Spotless With Professional House Washing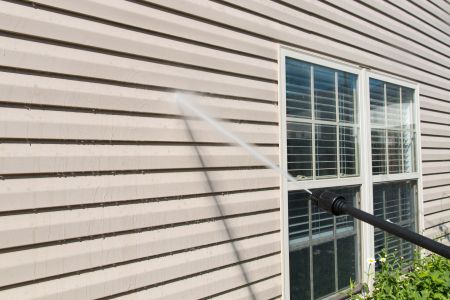 To keep your Frederick area home looking its best, you need to invest in professional house washing services on a routine basis. After all, your home's exterior half remains continuously exposed to the elements, and this exposure can leave it looking quite unsightly over time. This unsightliness can cause your home to suffer from a number of issues such as the following:
Your home's curb appeal could suffer
Your property value could decrease significantly
You could be exposed to harmful mold and mildew growths on your home
To get the most out of your house washing, you need to leave that work in the hands of the experienced pros at Eco Bright Exteriors. You can further ensure your home will look its best by pairing that work with our professional roof cleaning work. With all of these exterior cleaning services, we'll get your home looking great, helping to maintain its curb appeal, value, and safety.
Leave the Work to Our Experienced Team
When you determine it's time to get your Frederick house washed, you also need to be determined to leave that work in the hands of an experienced professional. After all, getting the best results requires quite a bit of know-how and equipment. What's more, the job can be time-consuming if you're not accustomed to it, and you may find yourself pressed for time needed to get your house cleaned yourself.
So, when it comes time to get a house washing, be sure to leave that work in our dependable hands. With us, your home is guaranteed to look its best, and you'll be able to enjoy all the great benefits this work can offer better curb appeal, higher property value, and safety benefits, just to name a few.
Get Your Frederick Home Market-Ready with a House Washing
The curb appeal and property value benefits of a house washing will pay off when it comes time to put your home on the market. So, when you determine that it's time to get your home sold, you need to call our Frederick team. We'll get your home market-ready in no time, ensuring you get it sold quickly for the highest possible price.
Enjoy Quality Work from Our Dependable Power Washing Company
When you decide it's time to get a professional house washing, you need to look to our experienced power washing specialists. With our experience and dedication to complete customer satisfaction, we can guarantee you'll enjoy the highest-quality results possible for all your exterior cleaning needs.
Latest Articles & Tips
Importance of Driveway Cleaning

To keep your Frederick area home looking its best, take care to keep its driveway clean and beautiful. Unfortunately, it can seem like an uphill battle to maintain a clean driveway, as it will remain […]

Reasons to Get Roof Cleaning

Of all the components that make up your Frederick home, the roof is one of the most important thanks to the protection, beauty, and support it provides. Unfortunately, your roof is bound to suffer so […]