Solar Panel Cleaning To Maximize Frederick Energy Collection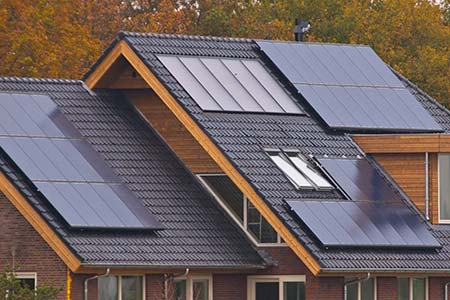 At Eco Bright Exteriors we offer solar panel cleaning for residents in Frederick and the surrounding area to keep this modern home amenity clean and clear from damaging dirt.
Solar panels are an expensive investment as a modern home amenity created to help you collect environmentally friendly energy and reduce your home's electric bill. However, if they are not properly maintained, they may not be performing as they should. In fact, you could be losing out on 50% of their energy collection abilities by letting them collect dirt and dust.
Eco Bright Exteriors is your local, trusted company providing pressure washing for Frederick. Our careful and considerate solar panel washing technique will improve solar panels' efficiency and keep them performing as they should.
Schedule a solar panel washing for your Frederick solar panels today by calling Eco Bright Exteriors at 240-356-8555.
PV Panel Cleaning Specialists
At Eco Bright Exteriors, we never risk damaging the materials of your home while we work. Much like our house washing services, we take a careful, considerate approach to solar panel washing. With a light touch and a steady hand, our expert staff will have your solar panels clean, clear, and well-cared for.
Our process is simple yet effective. Solar panels will be cleared of any dirt, debris, or dust that may hinder their energy collection and perform efficiently for a more extended period. Schedule a regular solar panel washing as part of our maintenance program packages and maximize your solar energy collection year-round!
Proactive Maintenance for Your Investment
By scheduling a solar panel washing service with Eco Bright Exteriors, you're getting the bonus of knowing exactly what is happening up there! Our expert, experienced staff take the time to thoroughly examine the surface of your solar panels to ensure there are no cracks or exposed wires. We'll inform you if there is anything of concern before it becomes a bigger problem. Eco Bright Exteriors is proud to provide homeowners with priceless peace of mind with every service.
Latest Articles & Tips
Importance of Driveway Cleaning

To keep your Frederick area home looking its best, take care to keep its driveway clean and beautiful. Unfortunately, it can seem like an uphill battle to maintain a clean driveway, as it will remain […]

Reasons to Get Roof Cleaning

Of all the components that make up your Frederick home, the roof is one of the most important thanks to the protection, beauty, and support it provides. Unfortunately, your roof is bound to suffer so […]